This recipe is a family recipe, from the legendary Auntie Irene. After years of making bread, pizzas, croissants and so on, we realized that this recipe is unbeatable.
It's easy, delicious and decidedly quick for a leavened product. You can start in the morning and have your focaccia ready for lunch! The result will be tall and soft and you can indulge yourself with the seasonings. What are you waiting for?
Ingredients:
300 g of 0 flour
200 g Manitoba flour (or American flour)
350-400 g of cold water
2 tablespoons of extra virgin olive oil
10 g of salt
3/4 of a cube of fresh yeast
1 tablespoon of sugar
Seasoning: Sliced ​​cherry tomatoes, tomato puree, garlic oil, oregano, salt, pepper, mozzarella, potatoes, rosemary… whatever you like!
In a glass of warm water (not too hot), crumble the fresh yeast and mix it with the sugar until everything is perfectly dissolved. Leave it to rest for 10 minutes until it reactivates and … foams a little.
In the planetary mixer with the paddle attachment, or in a large bowl if kneading by hand, put the water, half the flour and the oil and start mixing vigorously. Then add the yeast dissolved in the water and the rest of the flour, little by little, and finally the salt, kneading vigorously for at least 10 minutes.
The stop it, put the dough in the fridge for 10 minutes and then work it again with the bread hook (the one that looks like a corkscrew) if you use the planetary mixer until it is well strung and elastic. Fold the dough 3-4 times, see the diagram below, and finally close it into a sphere.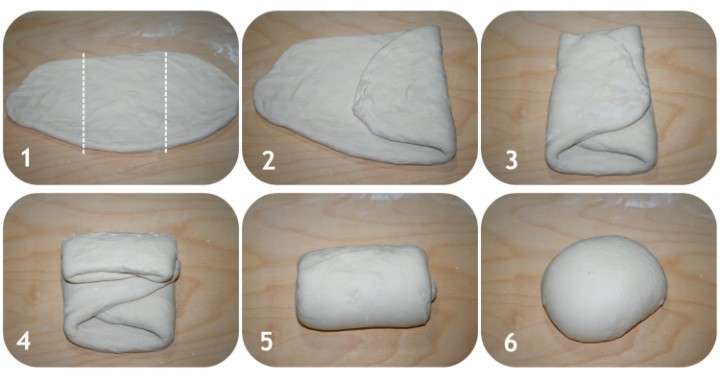 Grease a bowl and place the dough in it, cover it with cling film and leave to rise in the oven, slightly pre-heated to 40 degrees and then turned off, leaving the light bulb on.
Let rise until it will double(it will take about 1 hour).
In the meantime, prepare the condiments in separate bowls: cut the cherry tomatoes into slices and season them with salt, oil, garlic, oil and oregano, the raw tomato sauce with oil, salt, pepper and basil, potato sheets obtained with a potato peeler and seasoned with salt, pepper and rosemary, a little lightly squeezed mozzarella.
Once risen, prepare a baking tray with a rim at least 3-4 cm high, lined with lightly greased baking paper (just barely). Place the mixture and lightly grease the surface as well: quickly spread the dough into the pan with your hands, dipping your fingers deep to create dimples.
At this point proceed with the seasoning as you prefer, marinara, margherita, potatoes, vegetables… I usually add more seasonings so then cutting it into small pieces you have different types of different focaccias. Add salt and a drizzle of oil and leave to rise again in the oven until it is well swollen (another hour).
Once it has risen, set the oven to 250°C (static) and cook for half an hour, positioning the grill on the bottom. If you want to add mozzarella, add it only during the last 5 minutes of cooking. After half an hour, check and if the edges are crispy, it means it's done. Take it out and lift the pizza a little to see if it is well cooked.
Let it cool, cut it into squares and serve!

It's so good and soft that not a crumb will remain.
ps. it's also good the next day, re-heated slightly.